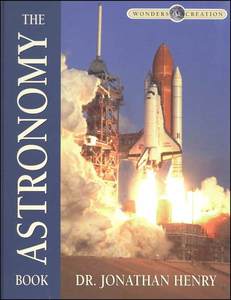 Wonders of Creation Series - The Astronomy Book by Dr. Jonathan Henry
Author:
Dr. Jonathan Henry
Grade:
7+
ISBN:
890512507
Retail Price:
$15.99
Price: $14.95
Free USA shipping!
The second book in the highly successful "Wonders of Creation" series (following
The Weather Book
), The Astronomy Book soars through the solar system targeting middle-school through junior-high levels. The reader will acquire a wealth of knowledge on subjects such as supernovas, red shift, facts about planets, and much more. Enhanced with dozens of color photos and illustrations (including NASA shots), this book gives educators and students a Christian-based look at the awesomeness of the heavens.
The Astronomy Book will teach you:
What UFOs are.
Solar system facts.
Whether black holes exist.
Why Mars doesn't support life.
The origin and age of the moon.
The history of space exploration.
How constellations relate to astrology.
The age of comets and meteor showers.
Asteroid legends and the extinction of the dinosaurs.
What long-ago astronomers thought about other worlds.
The composition of stars, supernova remnants, and the myth of star birth.
Whether planets outside our solar system could be home to intelligent life.
Look for similar items