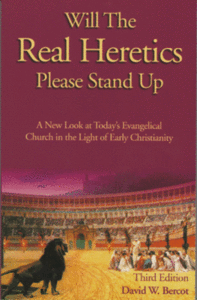 Will the Real Heretics Please Stand Up
ISBN:
924722002
Retail Price:
$9.95
Price: $8.88
Free USA shipping!
A fascinating overview of the early Christians (A.D. 90 - 299): Who they were. How they lived. What they believed. And how the Christianity of that era was lost.

Penned in a free-flowing readable style, combined with sound scholarship, this eye-opening book challenges Christians today to return to the simple holiness, unfailing love, and patient cross-bearing of the early Christians. Includes a challenging comparison between the early Christians and today's evangelicals.
Look for similar items