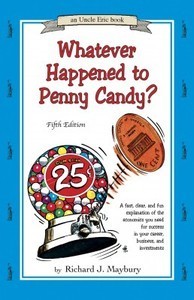 Whatever Happened To Penny Candy? 6th Ed Richard Maybury
ISBN:
9780942617627
Retail Price:
$14.95
Price: $11.97
Free USA shipping!
In "Whatever Happened to Penny Candy?" Richard Maybury uses historical events from Ancient Rome to explain economic principles.

This clearly written book covers investment cycles, velocity, business cycles, recessions, inflation, the demand for money and more.

Recommended by former U.S. Treasury Secretary William Simon, this book appears on many suggested reading lists.

Appropriate for ages 10 through adult.