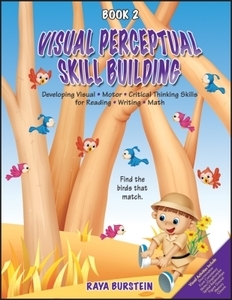 Visual Perceptual Skill Building Book 2
Grade:
2-3
ISBN:
894557556
Retail Price:
$24.99
Price: $21.88
Free USA shipping!
Visual Perceptual Skill Building Book 2 for
Grades 2-3 builds visual, motor, and critical thinking skills for reading, writing, and math. Develops the child's recognition of letters, words, number, and similar/dissimilar objects. It also improves sequencing and visual memory skills. Designed specifically for shorter attention spans. No reading is required. Directions may be read aloud as needed. Each book includes eight progressively more challenging skill sections with pretests and post-tests to evaluate students' beginning and ending skill levels.