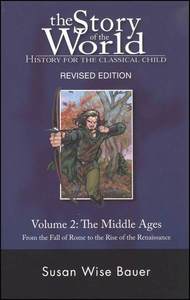 The Story of the World Volume 2 The Middle Ages Revised
Author:
Susan Wise Bauer
Grade:
1-6
ISBN:
1933339098
Retail Price:
$16.95
Price: $15.88
Free USA shipping!
Told in the straightforward, engaging style that has become Susan Wise Bauer's trademark,
The Story of the World, Vol 2: The Middles Ages
covers from the Fall of Rome to the Rise of the Renaissance.
The Middle Ages (400 - 1600) - This engaging story tells world history in a compelling, fun, way.
Who discovered chocolate? What happened to the Giant Fovor of the Mighty Blows? Why did the Ottoman Turks drag their war ships across dry land?
A read-aloud history for the whole family!
This read-aloud series is designed for parents to share with elementary school children in grades 1-4. This book is also appropriate for grades 5-8 to read independently. This new, revised edition contains new maps, illustrations and timelines. 416 indexed pages, softcover.
Topics covered include:

Fall of Rome
Christianity Comes to Britain
The Byzantine Empire
The Rise of Islam
The Great Kings of France
The Viking Invasion
The Age of Crusades
The Diaspora
The Ottoman Empire
Exploring New Worlds
Martin Luther
The Renaissance
and more!
Look for similar items