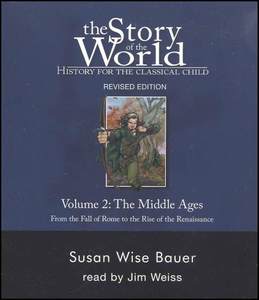 The Story of the World Volume 2 Audio CDs Susan Wise Bauer
Author:
Susan Wise Bauer
Grade:
1-6
ISBN:
1933339128
Retail Price:
$44.95
Price: $36.88
Free USA shipping!
History will never be the same.
This spirited reading of the second in Susan Wise Bauer's Story of the World history series brings to life the stories and records of the peoples of the middle ages.
Now more than ever, other countries and customs affect our everyday lives-and our children need to learn about the people who live all around the globe. Susan Wise Bauer has provided a captivating guide to the history of the ancient world. Written in an engaging, straightforward manner, The Story of the World weaves world history into a storybook format. This volume covers the major historical events from the years 400 to 1600-from the fall of Rome through the rise of the Renaissance.
An unabridged audio recording of the text, read by Jim Weiss. Set includes 9 CDs with a total of 11 hours of running time.
Look for similar items