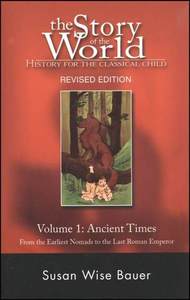 The Story of the World Volume 1 Ancient Times Revised
Author:
Susan Wise Bauer
Grade:
1-4
ISBN:
1933339004
Price: $15.88
Free USA shipping!
Written in the straightforward, engaging style that has become Susan Wise Bauer's trademark,
The Story of the World
series covers the sweep of human history. This read-aloud series is designed for parents to share with elementary (grades 1-4) grade children. This series is also appropriate for grades 5-8 to do on their own. Volume I,
Ancient Times
includes the First Nomads, Egypt, the Jewish People, Abraham and Joseph, Hammurabi and the Babylonians, the Assyrians, Ancient China, Ancient Africa, Exodus, the Phoenicians, the Greeks and Rome. 338 pages, indexed with pronunciation key, chronology & geography. Softcover.
Look for similar items