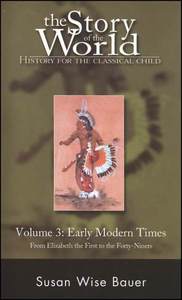 The Story Of The World, Vol. 3 Early Modern Times Revised
Author:
Susan Wise Bauer
Grade:
3-8
ISBN:
971412995
Price: $15.88
Free USA shipping!
Early Modern Times (1600 to 1850) - Introduce your child to the marvelous story of world civilizations with this read-aloud series.
Who was the Sun King? How did samurai become sumo wrestlers? What was the Black Hole of Calcutta? And why was a California town named Ground Hog Glory? Why was Peter the Great so great? What was the Trail of Tears? From 1600 to 1850, the modern nations of the world were developing---and your students are there with this engaging read-aloud story of civilization. Learn about explorations, revolutions, discoveries, and inventions on every continent and across the seven seas!
Enjoy learning about the Early Modern Times with this fun and informative read-aloud volume.

Ages 6 and up. Approx. 400 pages, softcover from Peace Hill.
Author :Susan Wise Bauer
Look for similar items