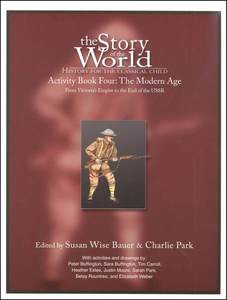 The Story of the World Book 4 The Modern Age Revised Activity Book
Author:
Susan Wise Bauer
Grade:
1-8
ISBN:
972860355
Retail Price:
$32.95
Price: $28.88
Free USA shipping!
Don't just read about history—experience it! Build a model of the Crystal Palace, make Ned Kelly's armor, and color and construct a timeline of the Modern Age. This comprehensive activity book and curriculum guide contains all you need to make history come alive for your child. Along with the accompanying book
The Story of the World, Volume 4: The Modern Age
, this Activity Book provides a complete history program. If you purchase this Activity Book, you have permission to copy the maps and other materials for use within your own family.
Look for similar items