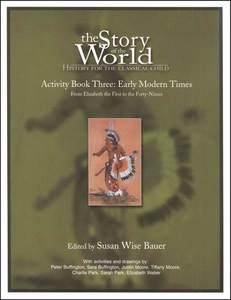 The Story of the World Book 3 Early Modern Times Revised Activity Book
Author:
Susan Wise Bauer
Grade:
1-4
ISBN:
972860320
Retail Price:
$32.95
Price: $28.88
Free USA shipping!
Don't just read about history—experience it! Color a picture of Captain Cook in Botany Bay, design an Ottoman pattern, play the Battle of Bunker Hill board game, and pan for gold. Designed to turn the accompanying book
The Story of the World, Vol. 3: Early Modern Times
into a complete history program, this
Activity Book
provides you with comprehension questions and answers, sample narrations, maps and geography activities, coloring pages, lists of additional readings in history and literature, and plenty of simple, hands-on activities. This thick activity book accompanies the Story of the World's
textbook with fun ideas for each chapter. Recommended readings in Usborne and Kingfisher encyclopedias are provided before moving onto review questions (with answers given beneath in italics) and a narration exercise. Create your own Scottish tartan, celebrate Guy Fawkes day, cook colonial pottage, make your own
galleon
, and make history come alive in many other fun ways! 164 pages, softcover. Maps, review cards, coloring pages, paperdolls, games and other supplemental materials provided
— all designed for grades 1-4.
If you purchase this Activity Book, you have permission to copy the maps and coloring pages for use within your own family.
Look for similar items