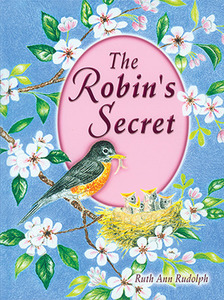 The Robin's Secret - Ruth Ann Rudolph - Eastern Mennonite Publications
Ages:
8-11
Author:
Ruth Ann Rudolph
MPN:
71810
Retail Price:
$9.95
Price: $8.94
Free USA shipping!
This book is full of surprises! Move with Jane and Roy to a new farm, and watch them learn the robin's secret as they experience a life of good things—surprises from God.
Find out why the cattle truck came, what was under the mountain, what was special about Brother Ben and Sister Clara King. Why did the children have Sunday school in a kitchen, and what did Jane and Roy see happening in their field one evening?
Sadness, sickness, hard times, troubles, and dangers are a normal part of life. But learn with Jane and Roy about God's goodness as He gives them many pleasant surprises. Be glad with them as they find Grandfather's surprise, the robin surprise, the surprise beside the stream, Neighbor Glen's surprise, and more surprises. Hardcover, 173 Pages.
Look for similar items