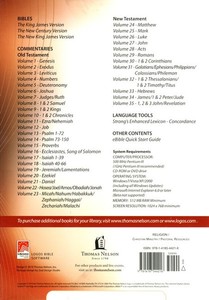 The Preacher's Commentary Libronix Software
ISBN:
1418544213
Retail Price:
$99.99
Price: $76.88
Free USA shipping!
Combining tremendous value with the latest eBook functionality, The Preacher's Commentary software enables you to search the Bible and the Preacher's Commentary in seconds.
Software includes the entire Old and New Testaments of the newly revised and updated
Preacher's Commentary Series
(originally released as
The Communicator's Commentary Series
: General Editor - Lloyd J. Ogilvie) coupled with three Bible Translations and Strong's Enhanced Lexicon (Concordance).
Features and Benefits
Powered by Logos—Compatible with all Libronix products
Greatly expand a church or home library with one, exceptionally economical purchase
Included software tools and search engines make Bible study easier than ever
Look for similar items