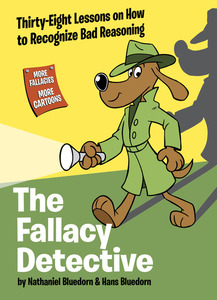 The Fallacy Detective Revised Edition
Ages:
12+
Author:
Nathaniel & Hans Bluedorn
ISBN:
974531537
Price: $22.00
Free USA shipping!
What is a fallacy?
A fallacy is an error in logic – a place where someone has made a mistake in his thinking.
These are fallacies:
"A cloud is 90% water. A watermelon is 90% water. Therefore, since a plane can fly through a cloud, a plane can fly through a watermelon."
"This new book, The Fallacy Detective, must do a good job teaching logic. It has been on the bestseller list for months."
This book was written to meet the needs of Christian parents who want a do-able text for introducing logic and critical thinking to their children.
Fun to use – not dry like a math textbook.
Self-teaching – not intimidating, starts students with skills they can use right away.
Each lesson has exercises for students, with an answer key at the back.
Covers logical fallacies and propaganda techniques. We divided the most common fallacies and propaganda techniques into thirty-six lessons. We explain how you can spot fallacies, and we give exercises to stretch your abilities for detecting fallacies.
Geared for ages thirteen and older – we suggest using The Fallacy Detective before advancing onto more difficult logic programs.
Includes The Fallacy Detective Game, giving you and your friends an entertaining way to spot and make up your own examples of fallacies.
2009 Edition introduces the special pleading and slippery slope fallacies.