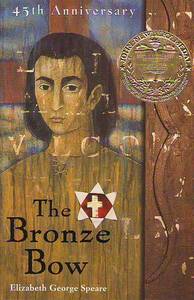 The Bronze Bow - Elizabeth Speare
Author:
Elizabeth George Speare
Grade:
4-6
ISBN:
395137195
Price: $6.95
Free USA shipping!
Daniel bar Jamin, 18, is determined to help his countrymen drive the Romans out of Israel. He feels it is his patriotic duty to do this, but he is also seeking revenge for the death of his parents. Thinking only of his goal, Daniel ignores his sister's worsening mental illness and the tenderness offered by his friends. Set in Galilee in the time of Jesus, this is the story of a young Jewish rebel who is won over to the gentle teachings of Jesus.
Look for similar items