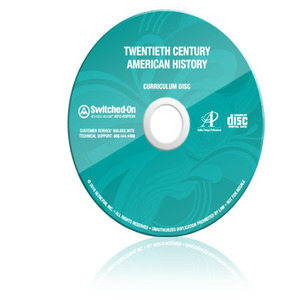 SOS Switched On Schoolhouse Twentieth Century American History
Grade:
9-12
ISBN:
9780740324079
Retail Price:
$54.95
Price: $51.25
Free USA shipping!
Explore America's recent past with SOS Twentieth Century American History! The perfect elective to complement high school history studies, this six-unit, multimedia-enriched course for grades 9-12 offers an in-depth look at American history during its time of change, conflict, and growth in the 1900s. Interactive, stimulating lessons include these thought-provoking topics:
• Coming of Age
• Modern America Emerges
• Boom to Bust - 1920-1940
• Hot and Cold Wars - 1930-1963
• Change, Continuity, & Conflict: 1963-Y2K
As students learn detailed information about nation-shaping events like the Industrial Age, the Roaring '20s, The Great Depression, the two World Wars, and the cold war conflicts, they'll also develop an increased awareness of how patterns and themes in history affect future generations. In addition, students' social studies skills will expand, as they grapple with the causes and effects of cooperation, competition, and conflict throughout America's economic, political, governmental, and technological growing pains of the 20th century.
Look for similar items