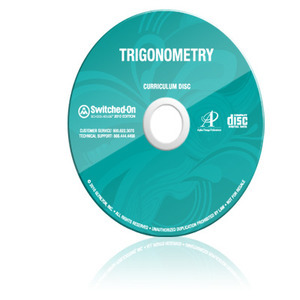 SOS Switched On Schoolhouse Trigonometry Elective
Grade:
9-12
ISBN:
9780740324086
Retail Price:
$54.95
Price: $51.25
Free USA shipping!
Give students a head start on college math with SOS Trigonometry! Designed for students who have completed Algebra II, this knowledge-building course for grades 9-12 prepares high school students for advanced math courses. Offering a five-unit study with a review, this elective teaches students how to develop trigonometric formulas and use them in "real world" applications.
This computer-based elective covers right angle trigonometry, graphs, trigonometric applications, the laws of sines and cosines, polar coordinates, and more. Helping students see the "big picture" of mathematics, this Christ-centered course shows the use of trigonometry as a tool for indirect measurement, explains the natural phenomenon of trigonometric functions, and gives an understanding of how algebraic and geometric concepts work together.
Look for similar items