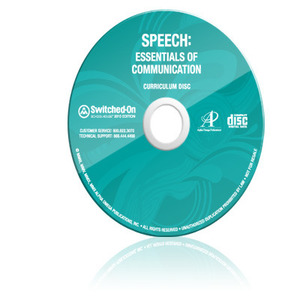 SOS Switched On Schoolhouse Speech: Essentials of Communication
Grade:
9-12
ISBN:
9780740323874
Retail Price:
$54.95
Price: $51.25
Free USA shipping!
Transform shy teenage students into confident public speakers with SOS Speech: Essentials of Communication from Alpha Omega Publications! Made for grades 9-12, this six-unit elective teaches students how to interact effectively in today's world. This engaging course covers the fundamentals of communication for successful interaction in various social and professional settings.
The course covers topics like communication foundations, language characteristics, and interpersonal relationships. Plus, this Bible-based course studies and practices the planning, preparing, delivering, and evaluating of presentations and public messages. In addition, SOS Speech: Essentials of Communication helps students gain an increased understanding of appropriate conversation, listening skills, proper etiquette, job interviews, and more!
New for Switched-On Schoolhouse 2012:
Customizable transcript
Past-due report
Free-form, text-based parent journal
Improved print flexibility
F3 Student Search function
Parent Toolbox with Reading and Activity Logs
Bible Lookup
Attendance tracker for multiple students
New themes, avatars, audio feedback, graphic theme selector, enhanced custom assignment editor, user interface, and additional upgrades!
Look for similar items