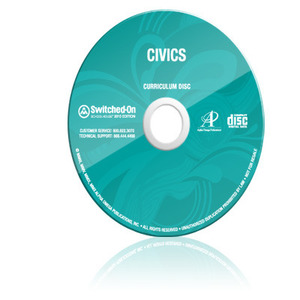 SOS Switched On Schoolhouse Civics Elective
Grade:
7-12
ISBN:
9780740323843
Retail Price:
$54.95
Price: $51.25
Free USA shipping!
Want to give your student a better understanding of American government? Get Switched-On Schoolhouse Civics for grades 7-12. This interesting, computer-based course is made for one semester and covers topics such as American government, state and local government, worldwide politics, and citizenship responsibility. Includes quizzes and tests.

New Features for 2012:
More Vocabulary Games - Four new vocabulary games are available.
Automatic Curriculum Updates - Course revision updates automatically download from AOP when you have installed the CD.
Instant Audio Feedback - Gives immediate feedback and positive reinforcement when student clicks the Grade button.
Fresh Journal Look - The SOS journal has a new look to encourage journaling and improve writing skills.
Assign coursework on specific days - Now you can assign courses on select days of the week. For example, math can be on Mondays and Wednesdays only.
Zero Out Option - You can easily zero out an entire SOS unit for a student to redo.
Look for similar items