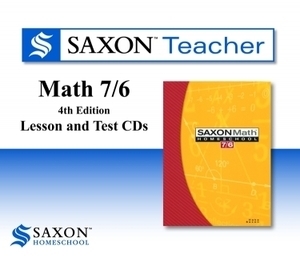 Saxon Math 76 Homeschool Teacher Lesson and Test CDs
ISBN:
9781602773899
Retail Price:
$89.99
Price: $98.88
Free USA shipping!
Saxon Teacher is the first ever official multimedia supplement to the Saxon Homeschool program. This set will introduce your middle schoolers to the new concepts they'll need for upper-level algebra and geometry - including functions and coordinate graphing; integers; multiplying decimals and fractions; radius, circumference, and pi; and more. Step-by-step video and audio instruction allows students to move forward or backward within lessons and pause, resume, or skip questions. Five CD-ROMS cover 120 lessons, 12 investigations, and more!

Saxon Teacher includes:
Comprehensive lesson instruction from a teacher with extensive Saxon teaching experience
Complete Solutions to every practice problem, problem set, and test problem, including step–by–step explanations and helpful hints
A user–friendly CD format with simple navigation
System Requirements:

128MB RAM; Windows 98/00/ME/XP/Vista, Macintosh 10.2 or higher.
Look for similar items