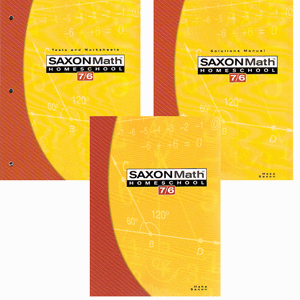 SAXON MATH 76 4 EDITION HOMESCHOOL HOME STUDY KIT NEW GRADE 6
ISBN:
9781591413493
Retail Price:
$84.50
Price: $98.88
Free USA shipping!
Saxon Math 7/6 6th Grade Home Study Kit
We are a Saxon dealer and have the full line of Saxon curriculum available as well as many others. This kit is brand new never opened. It is the current 4th edition. 
 Product Description: 
Saxon Math 7/6 is made up of five instructional components: Warm up Activities including Facts Practice, Mental Math, and Problem Solving; Daily Lesson; Lesson Practice; Cumulative Practice; and Cumulative Tests. This new edition includes: word problems, functions and coordinate graphing, integers, exponential expressions, divisibility concepts, prime factorization, ratios and proportions, statistics and probability, radius, circumference and pi, and complementary and supplementary angles. The Homeschool Kit includes the student textbook, a tests and worksheets booklet, and a solutions manual. Grade 6. 
Look for similar items