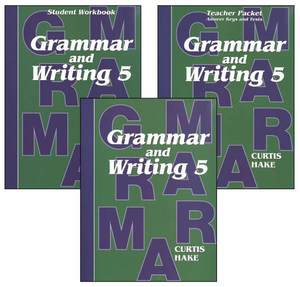 Saxon Grammar and Writing (Hake's Grammar) Grade 5 Kit
Grade:
5
ISBN:
1419098365
Retail Price:
$75.00
Price: $71.88
Free USA shipping!
Developed to follow the classic Saxon model of incremental development and continuous review, Hake's
Grammar and Writing
is a comprehensive English language curriculum that incorporates grammar, writing, spelling, and vocabulary development. Core-knowledge content, such as history, geography, science, and literature, is also embedded in the curriculum. Each Grammar and Writing kit includes three books, the Student Textbook, the Student Workbook, and the Teacher Packet.
The Student Textbook contains lessons that instruct students on eight key grammar and usage concepts:


Capitalization
Punctuation
Sentence Structure
Parts of Speech
Usage
Spelling Rules
Diagramming
Look for similar items