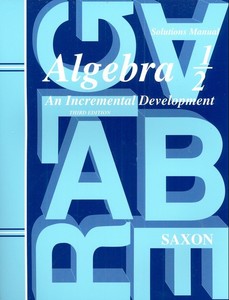 Saxon Algebra 1/2 Solutions Manual Homeschool New 3 Ed.
Grade:
9
ISBN:
1565771311
Retail Price:
$40.20
Price: $77.99
Free USA shipping!
Saxon Algebra 1/2 Third Edition Solutions Manual
I'm pleased to offer you this outstanding homeschooling curriculum at this fantastic price! This book is the 3rd edition brand new hot off the press.
We sell a wide variety of homeschool and christian books, so if you don't see what you are looking for in our listings please contact us. Chances are we sell it.
Product Description: 
Contains solutions to all the problems in the Algebra 1/2 student textbook, third edition. Grade 8. 
Look for similar items