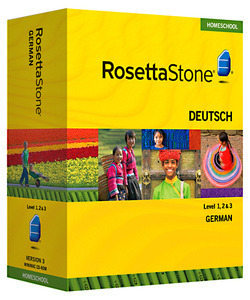 Rosetta Stone German Level 1, 2, & 3 Homeschool Set
ISBN:
9781603918336
Retail Price:
$579.00
Price: $359.00
Free USA shipping!
Rosetta Stone Version 3 German Level 1, 2, & 3 Set
We are pleased to announce that we are now authorized distributors for this world renowned language learning system. This set is brand new in the box.
Overview:
This indispensable language-learning solution provides students with a robust curriculum to fully explore German.
Begin with the vocabulary basics and essential language structures of German. Students will then progress through the program to more advanced levels, creating sentences that allow them to build upon their skills. In addition, administrative tools provide parents with the necessary resources to plan lessons as well as monitor and report on student progress.
Students will immerse themselves completely in the new language using this software. And when students are on the go, they can reinforce what they learn with Audio Companion Cds. Audio Companion enhances the language-learning experience anywhere that students can use a CD or MP3 player.
What's Inside the Box?
Application CD
Language CD
Audio Companion™ CDs
User's Guide - Discusses the basics of the Rosetta Stone program
Parent's Guide - Aids the parent in lesson planning, tracking student progress, and effectively using Rosetta Stone Homeschool Version 3 in a homeschool environment
Headset with microphone
Quick Start Activation Card
Supplemental Education Materials CD includes printable files for:

Table of contents
Scripts for each lesson
An index to all words in the program
Sample Topics

Rosetta Stone Homeschool Version 3 Level 1, 2, and 3 Set helps the student to navigate his or her surroundings while connecting with the world around them by continually building on basic language fundamentals, vocabulary, and conversational skills. The Level 1, 2, and 3 Set provides instruction in such areas as:

Basic conversational skills
Greetings and introductions
Colors, adjectives, and numbers
Prepositions, definite and indefinite articles
Singular and plural nouns
Family relations, the 5 senses, time of day
Compare and contrast
First and second person pronouns and possessive pronouns
Directions, transportation, and telling time
Past and future tenses, adverbs, and informal imperatives
School subjects, months of the year, and social dialogues
Emotions
Sequencing with First/ Then/ Finally
Ordinal numbers
Spatial relationships
Household items, physical activity, and animals
Present subjunctive and present perfect
What happened? What is wrong? "If…..then" sequences
Portions, weights, and measurements
Correct/ incorrect, remember/ forget, no one/ everyone, nothing/ everything
Continents, life milestones, and compass directions
Requirements for Rosetta Stone User Workstations

Windows (32-bit editions only) 2000 or XP, or
Mac OS X 10.4 or 10.5
128 MB RAM
250 MB free hard-drive space
16-bit sound card
800 x 600 display resolution
Speech Recognition feature requires a headset microphone (USB or analog)

Note for Microsoft® Windows Vista™ users:

Current Rosetta Stone® products have been engineered to install and run on the Windows Vista operating system. Some 3rd party components used in Rosetta Stone products have not been certified by Microsoft as 'Vista Compliant'. Accordingly, you may encounter some Vista-related operating issues. Rosetta Stone technical support may or may not be able to resolve these Vista-related issues. Rosetta Stone hereby disclaims any representations, warranties, guaranties and conditions with respect to the compatibility of the Rosetta Stone products with the Windows Vista operating systems.
It's Guaranteed!
There's no homeschool language curriculum as effective—or as fun to use—as Rosetta Stone. If you're not happy with the progress your child makes in the next six months, just return it, we'll refund your purchase price, no questions asked.
Look for similar items