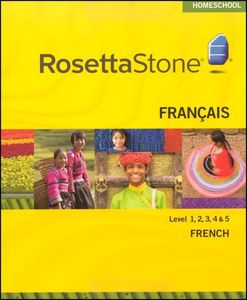 Rosetta Stone French Level 1, 2, 3, 4, & 5 Homeschool Set
Grade:
3+
ISBN:
9781608297122
Retail Price:
$749.00
Price: $459.00
Free USA shipping!
Rosetta Stone French Levels 1, 2, 3, 4, & 5 Homeschool Edition, Version 3, provides a foundation of key vocabulary and language skills, including directions, greetings, introductions, adjectives, time, emotion, works, interests, household items, animals, possessive pronouns, measurements, basic grammar, and more.
Rosetta Stone's interactive, immersion-method course has helped thousands of students to easily master a new language. Vivid imagery, native voices, and real-life exercises foster speaking, understanding, reading and writing intuitively from the first exercise to the last, while speech recognition technology provides instant feedback and improved pronunciation. Grammar and spelling components build comprehensive skills, while real-life simulated conversations test fluency.
Rosetta Stone students progress independently at their own pace. Parents can choose whether to use a preloaded lesson plan or full-year curriculum track, create their own lessons, or use an alternate program to focus on specific skills such as listening & speaking or reading & writing. Students are tested periodically, automatically advancing as their scores improve through reviewing weaker areas. At the completion of a unit, students complete a "Milestone Activity" in which they must speak into the microphone and participate in a conversation. The built-in reporting tool gives parents the ability to view, print and export student results, including completed exercises, current lesson progress, scores, and time spent learning.
Reinforce your language skills anywhere, anytime with the audio companion; five audio activities per level correspond with the computer lessons and provide additional conversation practice. At home or on the go, you can redeem the time by improving your pronunciation, vocabulary, phrases, speaking & conversation skills.
System requirements
: Windows 2000, XP or Vista; Mac OS 10.4 or later; 512 MB RAM; 600 MB free hard-drive space (per level); 16-bit sound card; 300 x 600 display resolution (1024 v. 768 recommended); internet or phone connection required for product activation.
Look for similar items