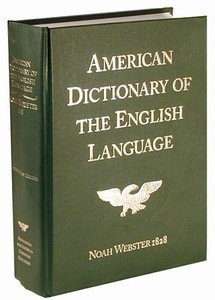 NOAH WEBSTER 1828 AMERICAN DICTIONARY OF ENGLISH LANGUAGE
Author:
Noah Webster
ISBN:
9780912498034
Retail Price:
$69.95
Price: $53.87
Free USA shipping!
Noah Webster American Dictionary of the English Language
Noah Webster's American Dictionary of the English Language, published in 1828, has enjoyed a renewed interest in American homeschooling and Bible study. This first edition of Webster's dictionary is perhaps the only general dictionary that can also be called a Christian one.
The Webster's 1828 Dictionary is a unique and essential tool for educating Christians.  It has the greatest number of Biblical definitions of any reference.  Roots are traced in 26 languages.  Usage examples come from classical literature and the Bible.  This dictionary becomes not only a tool for defining words Biblically, it becomes a way of thinking that forms your worldview.  It will equip you for Christian leadership, strengthen your vocabulary, give you an edge in communicating your view and become your foundation for thinking and reasoning Biblically. This tool can be the turning point for you to be more effective in communicating Christian principles used in government, economics, and marketing or for your student to clearly understand how the Bible has influenced every area of life. Webster considered "education useless without the Bible" and while he cautioned against too extensive use of the Bible in schools as "tending to irreverence," he reiterated, "In my view, the Christian religion is the most important and one of the first things in which all children, under a free government, ought to be instructed... No truth is more evident to my mind than that the Christian religion must be the basis of any government intended to secure the rights and privileges of a free people..."
Look for similar items