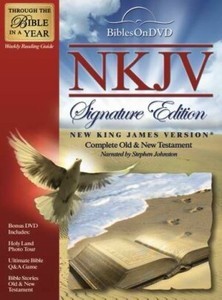 NKJV Signature Edition Bible on DVD Audio + Text & Photos - Stephen Johnston
Author:
Stephen Johnston
ISBN:
1603620524
Retail Price:
$29.95
Price: $27.88
Free USA shipping!
The New King James Version Signature Edition Bible On DVD, narrated by Stephen Johnston and an Emmy, Tony and Golden Globe Award-winning cast, has more features than ever before. This Signature Edition includes the complete Old and New Testament, along with the Through the Bible in a Year Weekly Reading Guide, which allows you to see and hear the complete Word of God in a convenient 52 Week format on your television or computer.

The NKJV Signature Edition Bible Features:
Over 70 Hours of Dolby Digital® Stereo Audio on one DVD
Dramatized multi-voice narration of the Old and New Testament
Optional Through the Bible in a Year Weekly Reading Guide
Synchronized graphics & text showing every verse Widescreen (16:9) and Full Frame (4:3) display
Interactive Menus that allow direct access to any book or chapter
Optional playback modes including:

Play a single chapter
Play a single book
Play a weekly portion of the Bible with the 52 Week Bible Guide
Continuous play of the entire Holy Bible

No Region Coding
NTSC TV format
BONUS DISC
Ultimate Bible Q&A Game—Hundreds of questions to test your Bible knowledge
Bible Stories from the Old and New Testament—33 dramatized Bible stories
Holy Land Photo Tour—Enjoy scenes of the Holy Land with your choice of three audio tracks.
Look for similar items