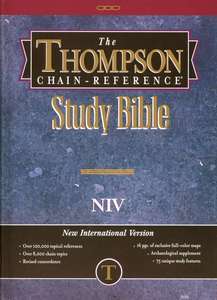 NIV Thompson Chain Reference Bible Hardcover
ISBN:
887070086
Retail Price:
$49.99
Price: $38.88
Free USA shipping!
For years the unique Thompson Chain-Reference system has been a favorite study tool, and for good reason. Easy to learn and use, the Thompson Chain-Reference system contains over 100,000 topical references in over 8,000 chain topics, helping to make in-depth topical study and lesson preparation easier and more efficient. The Thompson Chain is also known for its excellent archaeological supplement and extensive collection of charts, diagrams, and other illustrations. Other features include a revised concordance, 16 pages of full-color maps, and words of Christ in red.
Features:
Thompson Chain-Reference System---over 100,000 marginal references covering 8,000 completed chain topics
Thompson instant-use guide included
NIV concordance
Numerical index of chain topics
Alphabetical index
Outline studies of the Bible
Bible character studies
Bible harmonies and illustrated studies
Hebrew calendar
Index to the Scriptures atlas
8 point type
Double-column format
Wide margins
References in margins
Words of Christ in red
Subject headings
Concordance
Full-color maps
Archaeological supplement
7" x 91/2" x 11/2"
Look for similar items