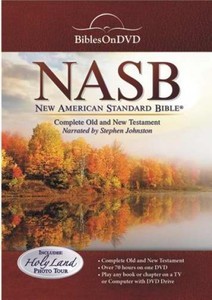 NASB Bible on DVD Audio + Text & Photos - Stephen Johnston
Author:
Stephen Johnston
ISBN:
1603620729
Retail Price:
$29.95
Price: $27.88
Free USA shipping!
Widely embraced as "the most literally accurate English translation" of Scripture, the NASB is now available on one DVD---with synchronized graphics and text showing every verse.
Features include:
Over 70 Hours of Dolby Digital Stereo Audio on one DVD
Complete narration of the Old and New Testament
Synchronized graphics & text showing every verse
Widescreen (16:9) and Full Frame (4:3) display
Interactive Menus that allow direct access to any book or chapter
Optional playback modes including:

Play a single chapter
Play a single book
Play a weekly portion of the Bible with the 52 Week Bible Guide
Continuous play of the entire Holy Bible

NTSC TV format
Bonus Disk
Ultimate Bible Q&A Game—Hundreds of questions to test your Bible knowledge
Bible Stories from the Old and New Testament—33 dramatized Bible stories
Holy Land Photo Tour—Enjoy scenes of the Holy Land with your choice of three audio tracks.
Look for similar items