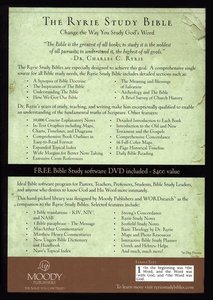 NAS Ryrie Study Bible + Moody Bible Software Blk Genuine Leather
Author:
Moody Press Bibles
ISBN:
802489362
Retail Price:
$84.99
Price: $64.88
Free USA shipping!
The Ryrie Study Bible is especially designed ho help you study and understand the Bible—"the greatest of all books. A comprehensive single source for all Bible study needs, the Ryrie Study Bible includes detailed sections such as:
A synopsis of Bible Doctrine
The Inspiration of the Bible
Understanding the Bible
How We Got the Bible
The Meaning and Blessings of Salvation
Archaeology and the Bible
A Brief Survey of Church History.
Dr. Ryrie's years of study, teaching and writing make him exceptionally qualified to enable an understanding of the fundamental truths of Scripture.

Other features include:
10,000 Concise Explanatory Notes, in text graphics including maps, charts, timelines and diagrams
Comprehensive book outlines in easy to read format
Expanded topical index
Wide margins for better note taking
Extensive cross references
Detailed introduction to each book
Introduction to the Old and New Testaments and Gospels
Comprehensive concordance
16 full-color maps
8-page historical timeline
Daily bible reading plan
Words of Christ in red
Presentation page
Ribbon marker
Gilded page edges
Two-column format
Complete NAS Bible, 1995 Edition
Free Bible Study Software DVD-ROM included (over $400 value)—Ideal bible software program for pastors, teachers, professors, students, bible study leaders and anyone who desires to know God and His Word more intimately. This hand-picked library was designed by Moody Publishers and Wordsearch as the companion to the Ryrie Study Bible.

Selected features include:

KJV, NIV*, and NASB*, The Message*
MacArthurs Commentaries*
Matthew Henry Commentaries, New Ungers Bible Dictionary and Handbook
Nave's Topical Index
Strong's Concordance
Ryrie Study Notes; Scofield Study Notes
Basic Theology by Dr. Ryrie
Interactive Bible Study Planner
Greek and Hebrew Helps.
Works with Windows XP and Vista
*30-day preview only
Look for similar items