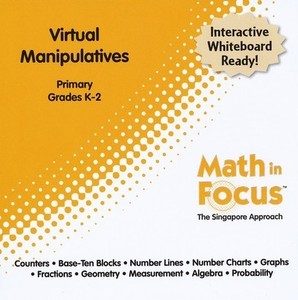 Math In Focus Singapore Approach Primary K-2 Virtual Manipulatives Software CD
Author:
Singapore Approach
Grade:
K-2
ISBN:
669028703
Retail Price:
$104.95
Price: $94.88
Free USA shipping!
This CD-ROM of
Math in Focus Manipulatives
is designed to be used with the Math in Focus Curriculum Series for Primary Grades (Kindergarten-2nd Grade). Counters, Base-Ten Blocks, Number Lines, Number Charts, Graphs, Fractions, Geometry, Measurement, Algebra, and Probability manipulatives are included; this CD is even interactive Whiteboard ready!
The CD will open up in a browser window; simply click on one of the categories to start exploring!

With this interactive program, you have students complete the fun activities such as:
Find out which object is heavier by dragging a selection to the scale and watching it tip
Have students construct their own graphs
Practice probability by identifying whether pulling a certain color from a bag is likely, unlikely, impossible, or certain

This CD works with Windows & Mac!