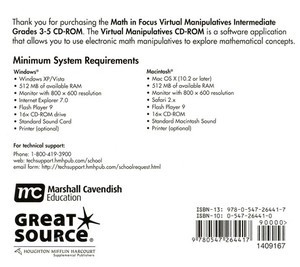 Math In Focus Singapore Approach Intermediate Gr. 3-5 Virtual Manipulatives CD
Grade:
3-5
ISBN:
547264410
Retail Price:
$104.95
Price: $94.88
Free USA shipping!
This CD-ROM of
Math in Focus Manipulatives
is designed to be used with the
Math in Focus
Curriculum Series for Intermediate Grades (Grades 3-4). Counters, Base-Ten Blocks, Number Lines, Number Charts, Graphs, Fractions, Geometry, Measurement, Algebra, and Probability manipulatives are included; this CD is even interactive Whiteboard ready!
The CD will open up in a browser window; simply click on one of the categories listed above to start exploring! Interactive, you have students complete the fun activities; create a tessellation, show patterns on a hundre d/addition/or multiplication chart; use base-ten blocks to show numbers; add money by dragging & dropping virtual dollars & coins; and more. Note that some of the activities are the same as the Manipulatives for Primary Grades.

For Windows & Mac Computers.