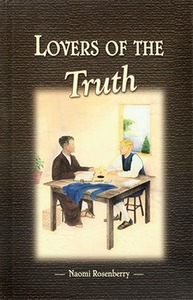 Lovers of the Truth - Naomi Rosenberry - Eastern Mennonite Publications
Author:
Naomi Rosenberry
MPN:
71805
Retail Price:
$12.95
Price: $11.65
Free USA shipping!
"The Turks are coming!" The cry rang through the market village of Pausram. "The Turks are coming!" It came louder this time. Dogs barked wildly, and somewhere a woman screamed.
Justin dropped his needle and looked at Father in alarm. "It sounds as if they are already here!"
"You hide. I'll lock the doors." Father's voice was urgent. "I hope Stefan isn't captured. I wish he were home!"
This captivating story is built upon an event in Anabaptist history recorded in the
Martyrs Mirror
. The Turks capture Stefan, a young Moravian Anabaptist, and sell him into slavery in Greece. There he meets Thessalonian Christians who have kept the faith since the apostles' times. This well-researched, stirring story should inspire readers of all ages to be sincere lovers of the truth.
311 pages; Hardcover
.
Look for similar items