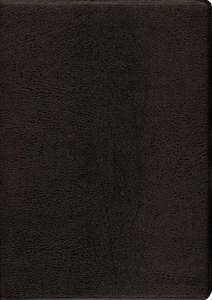 KJV Thompson Chain Reference Bible Large Print Black Bonded Leather
ISBN:
088707345X
Retail Price:
$89.99
Price: $69.88
Free USA shipping!
NOTICE! This Bible is currently on Backorder. For years the unique Thompson Chain-Reference system has been a favorite study tool, and for good reason. A Thompson study Bible will help you in ways other Bibles can't. It's the unique Chain-Reference System that allows you to follow any subject, person, place or idea, from the front of your Bible to the end. Thompson users say it's the best way to study your Bible. The Thompson Chain is also known for its excellent archaeological supplement and extensive collection of charts, diagrams, and other illustrations. Other features include a revised concordance, 16 pages of full-color maps, words of Christ in red, and Smythe Sewn reinforced tubular construction, which lies flat and provides a durable binding that will hold up to heavy use for years. The Thompson Chain-Reference Bible is printed and bound in the USA!
Features:
Thompson Chain-Reference System---over 100,000 marginal references covering 8,000 completed chain topics
Thompson instant-use guide included
KJV concordance
Numerical index of chain topics
Alphabetical index
Outline studies of the Bible
Bible character studies
Bible harmonies and illustrated studies
Hebrew calendar
Index to the Scriptures atlas
9 point type
Double-column format
Wide margins
References in margins
Words of Christ in red
Subject headings
Concordance
Full-color maps
Archaeological supplement
Ribbon marker
Gold gilded page edges
Smythe Sewn
Black bonded leather
71/2" x 101/2" x 11/2"
Look for similar items