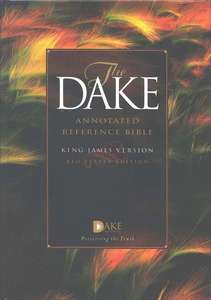 KJV Dake Annotated Reference Bible Black Hardcover
MPN:
253469
ISBN:
1558290680
Retail Price:
$72.99
Price: $57.99
Free USA shipping!
The Dake Annotated Reference Bible is like no other study Bible on the market. More than twenty years of painstaking research went into it. With 35,000 commentary notes, 500,000 cross/chain references and 9,000 outline headings, the Dake Bible is an excellent resource for personal study.
Yet it's not just the number of notes, references and headings that set the Dake Bible apart. It's what those tools do for you. Thousands of passages are amplified. Obscure readings are made clear. Ancient customs are explained, along with matters of history, culture and geography. In addition, parables, types, symbols, allegories and figures of speech are dealt with.
The King James Dake Bible Features:
Four-Column Format (two of text, two of notes/commentary)
7 point text
5 point notes
Book introductions & summaries
Words of Christ in red
Complete concordance and cyclopedic index
Dictionary/Concordance
Finis Dake's "Plan of the Ages" illustrated dispensational timeline
King James Version
7 1/2" x 10 1/2" x 1 3/8"
Black Hardcover
Look for similar items