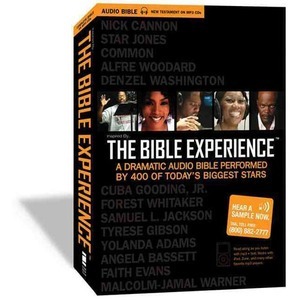 Inspired By . . . The Bible Experience: The Complete Bible on Mp3
ISBN:
310941555
Retail Price:
$69.99
Price: $58.88
Free USA shipping!
Experience the beauty, drama, and life-changing power of the Bible like never before! Inspired By … The Bible Experience breaks new ground in the presentation of the Bible. Unique among audio Bible products, The Bible Experience is a captivating performance of the Bible presented by a stellar ensemble of almost 400 of today's award-winning actors, musicians, clergy, directors, and producers.
This fully dramatized version of the TNIV New Testament was developed by entertainment veterans, and is a ground-breaking undertaking. The phenomenal quality draws you into Scripture and makes the Bible come alive in a new way you have never experienced before.
The fastest-selling audio Bible
ever!
Look for similar items