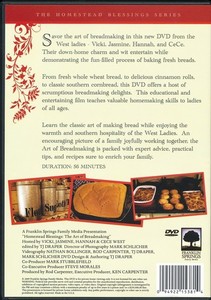 Homestead Blessings: The Art of Bread Making DVD
Author:
The West Ladies
ISBN:
12516260
Price: $13.88
Free USA shipping!
Savor the art of breadmaking in this new DVD from the West ladies - Vicki, Jasmine, Hannah, and CeCe. Their down-home charm and wit entertain while demonstrating the fun-filled process of baking fresh breads that will be savored by all. From fresh whole wheat bread, to delicious cinnamon rolls, to classic southern cornbread, this DVD offers a host of scrumptious breadmaking delights. This educational and entertaining film teaches valuable homemaking skills to ladies of all ages.
Learn the classic art of making bread while enjoying the warmth and southern hospitality of the West Ladies. An encouraging picture of a family joyfully working together, the Art of Breadmaking is packed with expert advice, practical tips, and recipes sure to enrich your family. Duration: 56 Minutes.
Look for similar items