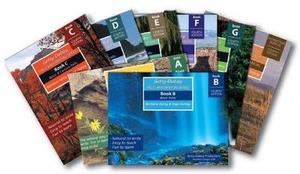 Getty-Dubay Italic Handwriting Complete Grades K-6 Set
Author:
Barbara Getty and Inga Dubay
Grade:
K-6
MPN:
GDP109
ISBN:
12515086
Retail Price:
$74.00
Price: $79.88
Free USA shipping!
Complete set of Italic Handwriting Series workbooks.
This series is a comprehensive, self-directed handwriting program that contains everything you need to teach the Italic hand to any age group and any kind of student. Italic, a simple, legible, logical way to write, virtually eliminates the troublesome printing-to-cursive transition, giving students a readable, distinctive handwriting that lasts a lifetime
. Set includes all books needed to complete the series for Italic and Cursive - Books A through G. Helpful as teaching aids, the Instruction Manual, a Basic Italic, and a Cursive Italic desk strip are also included.
.
Look for similar items