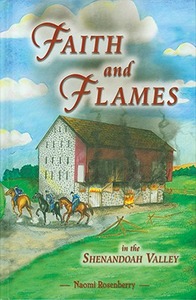 Faith and Flames in the Shenandoah Valley - Naomi Rosenberry - EMP
Author:
Naomi Rosenberry
MPN:
71808
Retail Price:
$15.95
Price: $15.65
Free USA shipping!
Terrified, the Brennemans watched as great leaping flames and thick columns of smoke rose from the Ralston's barn first, and then the Burkholder's and Rhodes's.
"They're coming!" Timothy shrieked when a small contingent [of soldiers] galloped down the Broadway Road.
Father was standing in the driveway when they arrived. "Please don't burn our buildings!" he begged.
This well-researched story opens a window into Mennonite life during the Civil War era. Two Mennonite families face the horrors and hardships of the war in the once-peaceful Shenandoah Valley. Will faith survive the flames of war? Historical fiction based on major events during the mid-1800s. 384 pages, Hardcover.
Look for similar items