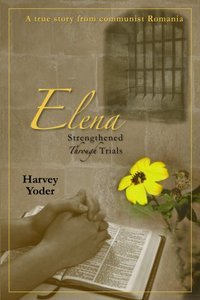 Elena Strengthened Through Trials - Harvey Yoder
Author:
Harvey Yoder
ISBN:
1885270291
Price: $13.18
Free USA shipping!
After losing her father, young Elena was sent to a state boarding school where she suffered loneliness and abuse. Her grandmother's Christian teaching faded away as she focused on becoming the fastest runner in Romania. Then the Lord's call changed her course!
After making a total commitment to Christ, Elena was kept under surveillance by the communists. Nevertheless, she was determined to work for the Lord. Finally, she tried unsuccessfully to escape from Romania. In prison, although suffering many hardships and more ridicule, Elena found that our sovereign God can use trials to strengthen His children and increase their faith in Him!
240 pages plus photo section.
Look for similar items