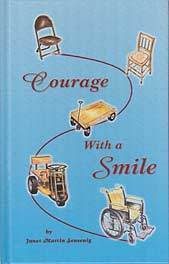 Courage With a Smile - Janet Sensenig - Eastern Mennonite Publications
Ages:
12-15
Author:
Janet Martin Sensenig
MPN:
71806
Retail Price:
$8.95
Price: $7.99
Free USA shipping!
Follow Lamar as his disease called muscular distrophy becomes steadily worse and he finally needs to adjust to life in a wheelchair. Caring parents, loving brothers and sisters, an understanding school teacher, and many kind friends make it easier for Lamar to accept his handicap and to face life with a smile.
Look for similar items