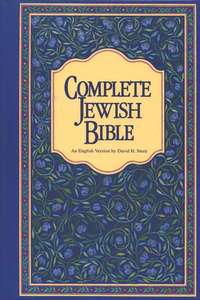 Complete Messianic Jewish Bible - Blue Hardcover
ISBN:
9653590154
Retail Price:
$34.99
Price: $32.88
Free USA shipping!
Presenting the Word of God as a unified Jewish book, the Complete Jewish Bible is a translation for Jews and non-Jews alike. It connects Jews with the Jewishness of the Messiah, and non-Jews with their Jewish roots. Names and key terms are returned to their original Hebrew and presented in easy-to-understand transliterations, enabling the reader to say them the way Yeshua (Jesus) did! For readers familiar with the Jewish New Testament, the Complete Jewish Bible is a welcome sight!


The Complete Jewish Bible:
Follows the Hebrew Bible order of the Tanakh's books the order with which Yeshua (Jesus) was familiar
Makes no separation between "Old" and "New" Testaments
Offers the original Hebrew names for people, places, and concepts, using easy-to-read English transliterations
Focuses on Messianic prophecy
Gives the traditional weekly and holiday synagogue readings, plus relevant readings from the B'rit Hadashah (New Testament)
Reconnects Christians with their Jewish roots
Connects Jews with the Jewishness of Messiah Yeshua and Messianic faith
Other Features of this Bible include: a comprehensive introduction, a pronouncing explanatory glossary, a reverse glossary and special maps to aid Bible understanding. Blue Hardcover.

Look for similar items