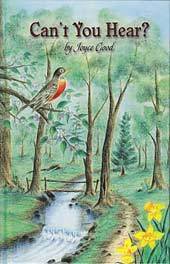 Can't You Hear? - Joyce Good - Eastern Mennonite Publications
Author:
Joyce Good
MPN:
71802
Price: $6.88
Free USA shipping!
"You know, Colleen, I really think you could have other friends too."
Colleen stared at her aunt. "You mean hearing friends?"
Seeing Aunt Heather nod, she went on bitterly. "I don't think so. I've tried countless times.... The girls at school get tired of repeating things all the time. And really, after they've repeated something to me, half its shine has disappeared. You just don't know what it's like to be so different from everybody else."
Colleen, a hearing impaired girl learns how to accept God's Plan and enjoy life even with her physical handicap. This story inspires compassion without calling for pity. It teaches that being different does not need to make life difficult. Learn with Colleen how to accept God's plan and enjoy life, even with a physical handicap.
Look for similar items