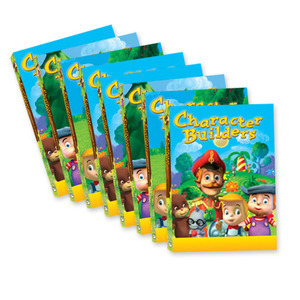 Bridgestone Character Builders 1-8 Eight DVD Set
ISBN:
9780740314643
Price: $49.99
Free USA shipping!
Get all eight DVD's in the Character Builders series in one low-priced boxed set! This colorful, Christian, animated, musical series includes catchy songs and profound stories. The set includes all 16 Character Builders episodes:
Obedience & Self Control,

Honesty & Responsibility,

Sharing & Kindness,

Confidence & Love

Goodness & Faith

Thankfulness & Gentleness

Politeness & Joy

Patience & Peace.

In these fully-animated episodes, your child will learn valuable lessons about the fruit of the Holy Spirit. Filled with entertaining characters to teach important spiritual truths, Character Builders is sure to be a family favorite.
With heart-warming stories and fun-filled songs, your child will enjoy learning positive character traits. Animated for today's generation, these adorable, timeless classics are perfect for your young homeschool children on a car ride or at home with the family. So take a break from with your child and enjoy watching these delightful Christian episodes together! All children love stories and songs, especially when blended with the right mixture of laughter, warmth, and love. And what better way to teach them the character traits you want them to have? And remember, ordering the complete set costs less than ordering each episode individually. So don't wait to take advantage of this offer! Order the Character Builders 8 DVD Set from Alpha Omega Publications today
Look for similar items