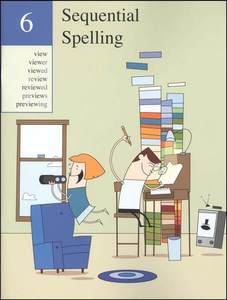 AVKO Sequential Spelling Level 6
ISBN:
1564009661
Retail Price:
$19.95
Price: $14.88
Free USA shipping!
Every learning channel is employed with this program – hence the acronym AVKO (
A
udio-
V
isual-
K
inesthetic-
O
ral). Here's the process: a word is given verbally and used in a sentence (audio); the student attempts to spell the word (kinesthetic); the correct spelling is given using colored markers on a white board to differentiate between family and other letters (oral interaction & visual); students correct their own spelling (kinesthetic). Utilizing the simple educational techniques of having students correct their own mistakes
when
they make them – not hours, days, or even weeks later – and creating a positive learning environment by maintaining that mistakes are opportunities to learn produces eager learners and definitive results. Tests are used as learning devices, not as a method of evaluation. If you feel compelled to give grades, written tests (reproducible) are available after the 40th, 80th, 120th, 160th, and 180th days.
For students to be able to use
Sequential Spelling
6 effectively, they should be able to spell these words:
signature, medicine, wrapped, carrying, central, conversation, impartial, exhausted, unconstitutional, wealthy,
etc.
Look for similar items