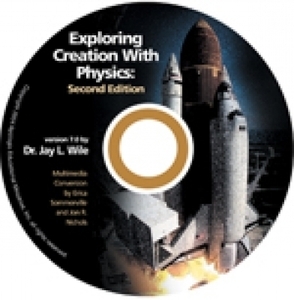 Apologia Exploring Creation with Physics - Full Course on CD
ISBN:
9781932012460
Retail Price:
$65.00
Price: $49.88
Free USA shipping!
Prerequisites: Algebra I, Geometry; basic Trigonometry functions
Exploring Creation With Physics: Second Edition is a high school, college preparatory multimedia physics course. It is not a supplement. It is a FULL COURSE! It runs in Internet Explorer, which is included on the CD.
The course looks just like a website, which makes it very easy to use. There is a navigation frame to the left which allows you to choose any module and any section of the course. The content of that portion of the course will then appear on the right-hand frame. There are animations and videos throughout the course, which make the material fun and interesting. Technical words are also pronounced for the student.
There are hands-on experiments throughout the CD so that the student can have a true laboratory-based physics course. All of the materials needed for these experiments are common, household items.
There are study guides and tests for every module in the course, and the answers are provided as well. Located on a separate CD that is included with the course, these materials can be printed out so that the student can use them and the parent/teacher can grade them.