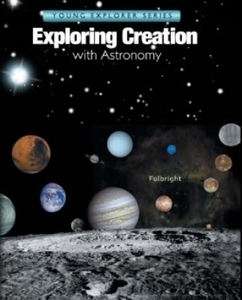 APOLOGIA EXPLORING CREATION WITH ASTRONOMY K-6 SCIENCE NEW
Grade:
K-6
ISBN:
9781932012484
Price: $29.88
Free USA shipping!
Apologia Exploring Creation With Astronomy
We are an authorized dealer for Apologia as well as a wide variety of other homeschool and christian books, so if you don't see what you are looking for in our listings please contact us. Chances are we sell it.

This wonderful book uses the classical and Charlotte Mason methodology to give elementary school students an introduction to our solar system and the universe that contains it. Narration and notebooking are used to encourage critical thinking, logical ordering, retention, and record keeping. Each lesson in the book is organized with a narrative, some notebook work, an activity, and a project. The activities and projects use easy-to-find household items and truly make the lessons come alive! They include making a solar eclipse, making craters like those found on Mercury, simulating the use of radar to determine hidden landscape, keeping track of the phases of the moon, making a telescope, making fog, and making an astrometer to measure the brightness of a star. Although designed to be read by the parent to elementary students of various grade levels, it is possible for students with a 4th-grade reading level to read this book on their own. Grades K-6.