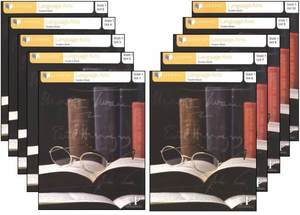 Alpha Omega Lifepac English IV 12th Grade Workbooks Set
Grade:
12
MPN:
LAN1200
ISBN:
1580957102
Retail Price:
$50.99
Price: $62.95
Free USA shipping!
Utilizing vocabulary, short answer, multiple choiceand matching, this Grade 12 Language Arts Workbook Set includes expository, research, creative, short story, and poetry writing, along with English literature from Medieval, Victorian and Elizabethan periods. Renowned English authors studied include Shakespeare, Wordsworth, Keats, Tennyson, Browning, and many more!
Lifepac Language Arts students will build a solid foundation in communication skills - the key to success and lifelong learning in any subject.
Perfect for students who flourish in a self-paced, individualized learning format, this comprehensive set includes ten complete, easy-to-follow worktexts that provide a complete overview of language arts topics. Each worktext contains consumable lessons, student reviews and self tests, as well as one removable teacher-administered test.
Look for similar items