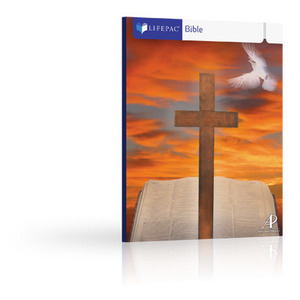 Alpha Omega Lifepac Bible 3rd Grade Student Workbooks Set
Grade:
3
MPN:
BIB0300
ISBN:
867170069
Retail Price:
$50.99
Price: $62.95
Free USA shipping!
Are you interested in teaching your third grade child Bible lessons using the best-selling LIFEPAC curriculum? Have you already taught one child and still have your teacher's guide? If so this set is for you. This set of 10 workbooks includes: Living for God, The Life of Jesus Christ, Oh Joseph!What was God's Plan for You?, You Can Use the Bible, God Takes Care of His People, How Do I Know the Bible is the Word of God?, Archaeology and the Bible, God Gave Is the Need for Friends, God Wants Man to Help Man, and God's Word Jesus and You. Each Scripture-based 3rd grade Bible worktext offers step-by-step lessons, fun activities, and colorful illustrations.

But let's take a closer look. The LIFEPAC 3rd Grade Bible 10-Unit Set has child-friendly lessons that include fill-in-the-blank questions, puzzle activities, and hands-on drawing assignments, to name just a few. And the best part is that unlike traditional textbooks, these worktexts are consumable and reduced in size for easy handling. Your child can complete each one in as little as three to four weeks. How's that for motivation! To ensure your child is mastering content, each worktext contains concept reviews, self tests, and an end-of-unit test. So there you have it—a full year's worth of homeschool curriculum all in one easy step! Order your LIFEPAC 3rd Grade Bible 10-Unit Set today! Uses KJV.
Look for similar items