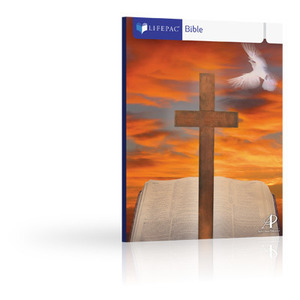 Alpha Omega Lifepac Bible 1st Grade Student Workbooks Set
Grade:
1
MPN:
BIB0100
ISBN:
867170026
Retail Price:
$50.99
Price: $62.95
Free USA shipping!
Encourage students to deepen their biblical understanding with
Lifepac Grade 1 Bible
! Self-paced, mastery techniques are combined with colorful illustrations and lessons entitled: God created all things, God loves His children, we can pray, God wants you to be good, Old Testament stories, God's promise, Jesus, our saviour, God calls missionaries, New Testament stories, God gave you many gifts, and others. The
LIFEPAC 1st Grade Bible 10-Unit Set
has bright, easy-to-follow lessons that include fill-in-the-blank questions, matching exercises, dot-to-dot pictures, and a lot more. And here's another plus—unlike overwhelming textbooks, each small worktext will motivate your child to complete consumable Bible lessons with its reduced size. And this slim homeschool worktext can be completed in as little as three to four weeks—imagine how excited he'll feel!
Grade 1. Teacher's Guides Not included.
Look for similar items