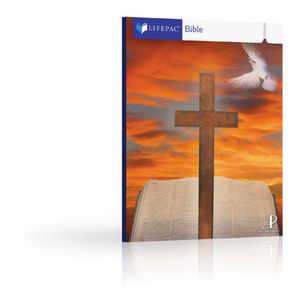 Alpha Omega Lifepac Bible 10th Grade Student Workbooks Set
Grade:
10
MPN:
BIB1000
ISBN:
740300040
Retail Price:
$50.99
Price: $62.95
Free USA shipping!
Encourage students to deepen their biblical understanding with Lifepac Bible! The Lifepac Old Testament Survey 10-Unit Set contains a full year of Bible lessons in ten structured, easy-to-follow worktexts that include a complete overview of Old Testament passages, along with engaging commentary and thought-provoking questions. Using the King James translation, the Lifepac Old Testament Survey curriculum covers a survey of the complete Old Testament, beginning with the six days of Creation in Genesis and ending in Malachi.
Included are topics such as:
Creation to Abraham
Abraham to Moses
Exodus and wanderings
Israel in Canaan
The judges and spiritual decline
The kingdom
The divided kingdom
The remaining kingdom
The captivity
The restoration.
Look for similar items